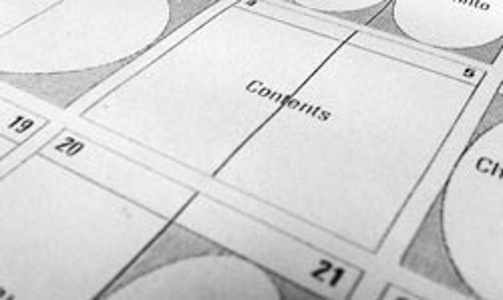 Our team of Project Managers are proactive and flexible. One Project Manager will be assigned to your project and will provide you with a main point of contact throughout the production cycle. Tasked with delivering your project on time and to your agreed specification, your TRMG Project Manager will coordinate all internal and external resources and contributors, keeping you informed every step of the way. TRMG Project Managers can instigate new content for you or work with raw copy supplied by members of your organisation. In addition to the in-house team, TRMG has extremely good working relationships with freelance journalists who cover a wide range of specialist subjects.
For more information about TRMG editorial services, please contact us.
TRMG sells advertising opportunities in publications for world famous events including Formula 1, MotoGP, World Superbikes and Crufts. With each project, our highly trained sales team will adopt a thoroughly professional approach with all potential advertisers. Our sales team has extensive experience in selling into a wide variety of markets and work closely with TRMG Project Managers to maximise the commercial opportunities within each publication we produce. Our advertising sales are not limited to the pages inside our publications; TRMG can also facilitate big screen video advertising, building wraps, banners, exhibitor stands and title sponsorship to name but a few. The opportunities to advertise your product directly to your target audience are endless – carrier bags, posters, bellybands, inserts, flags, bookmarks, or anything else you can think of. Not all the opportunities listed are available in every publication TRMG produce, please contact us for more information.
For more information about TRMG advertising services, please contact us.
For our advertising terms and conditions, please click here.
TRMG has a team of designers who pride themselves on coming up with exciting new ideas for your publication. Our team would be happy to come up with initial concepts for a new project based on your brief and brand guidelines, or assist you with innovative ways to update your existing publication. One designer will be selected to work on your project, but they always have their team around them to call upon for creative input and inspiration.
To see some sample editorial spreads, please browse through our publications page.
For more information, please contact us.
As well as selling advertising space in your publication, TRMG can also offer your advertisers the added incentive of letting us design their advert for them. Our highly experienced Advertising Production team will liaise with your advertiser and prepare an advertisement based on their brief.
For more information about TRMG advertising services, please contact us.
Events staff needed
Are you loud, outgoing, fun and polite? If you are then you are just the kind of person we are looking for! We require people to work at events throughout the year and country wide, including Southampton Boat Show, Crufts, Formula 1, Moto GP, The Game Fair any many more! This is a great way to experience some of the UK's top events and earn some extra money at the same time. If you are interested please contact David Mckay.
As well as producing and publishing your show guide or programme, TRMG can also run a highly effective copy sales operation at your event. Over the years we have built up a worldwide team of enthusiastic people who have proved themselves to be highly effective and professional programme sellers. Managed by a TRMG representative at all times, each member of the team would work pro-actively throughout your event to maximise sales.
TRMG can also help you give visitors to your event clearly visible areas to buy programmes by providing temporary sales kiosks which are well branded to stand out from any other sales kiosks which may be at your event. For more information, please contact David Mckay.
TRMG has the capability to produce electronic versions of its publications. These Digital Editions are 'flickable' publications that are read on-line using your web browser. They can be viewed using a traditional desktop computer or mobile devices such as Apple's iPad and iPhone or Android based phones and tablets. The technology is both user friendly and extremely powerful. The main features and benefits are:
Links – all email and web links can be made active
Search – text in the publication becomes searchable
Rich media – videos, audio and flash content can be added
Distribution – sent out to an almost limitless number of people
Branding – logos and branding can be added
Dynamic – pages can be changed to react to events or promotions
Digital editions are the prefect complement to your existing on-line marketing strategy and can co-exist with traditional print publications. The flexibility and rich media potential are key benefits that will add value to your partner and sponsor relationships.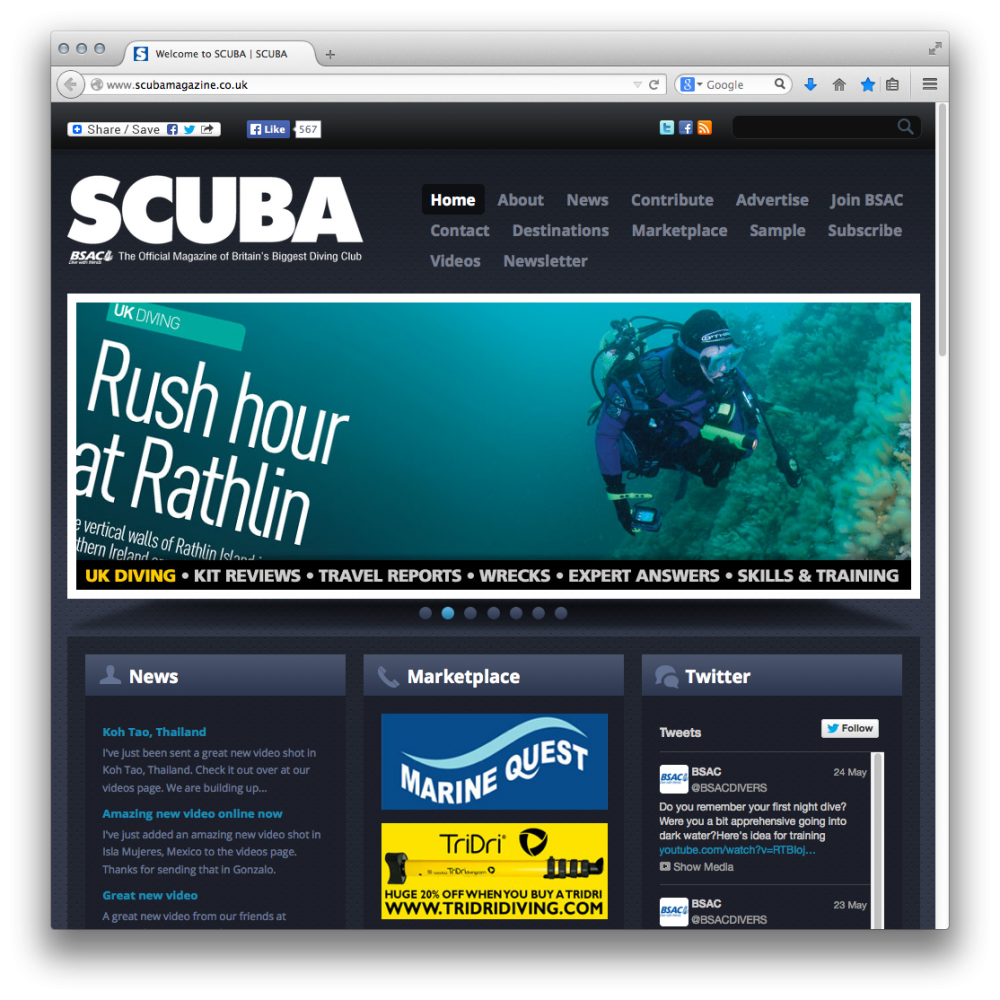 Websites
TRMG has created websites to promote and sell magazines for a number of our clients. When TRMG became publisher of SCUBA magazine, the official magazine of the British Sub-Aqua Club, part of the brief was to create a magazine website. The result was www.scubamagazine.co.uk. Backed by a powerful content management system (CMS), the website is easily updated using a web browser. It is also flexible enough to adapt to future requirements.
Smartphone applications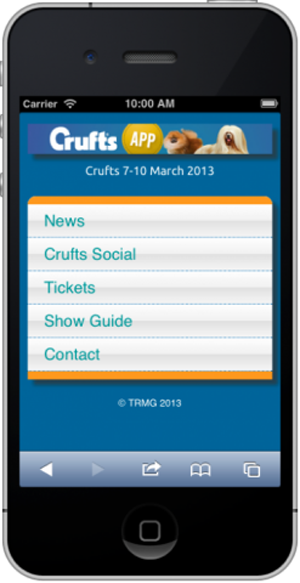 TRMG has developed a smartphone Web-Application framework. The motivation for this initiative was to provide clients who run events an effective way to communicate with their visitors through their hand-held devices. The key functions of the Web-APP are:
Platform independent – The Web-APP will work on most smartphones and tablets as it is built around a web-based framework and not developed using device-dependant native code
Easy to update – As the Web-APP is built around a multi-user model, editing teams can be given access through a web browser to certain areas of the Web-APP to allow fast updates
Push notifications – After a simple registration process, users receive a notification of new content via the native iOS and Android notification systems
Users always see the latest news – When they launch the Web-APP they will always see the latest information
Socially aware – the Web-APP can utilise existing social media channels such as Facebook, Twitter, YouTube
Life-span before, during and after the event – Rapidly becomes an important addition to the overall marketing strategy of an event.
For more information on TRMG digital services, please contact Charles Dragazis.